Here are some of the ideas I use to utilize my time and hope this helps you as well.
Sticky Notes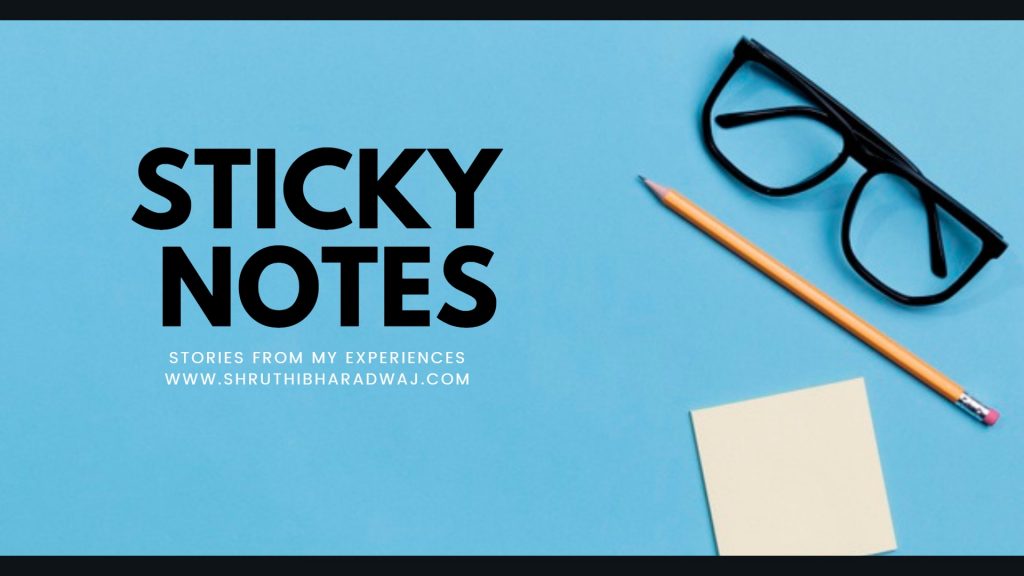 First thing first, I list down all the tasks to be completed. I list them down on sticky notes and hang them on respective places.  For Example, A sticky note on the refrigerator: Items to buy (if rice is getting over, I do not go to the stores to buy rice alone. I monitor to stock up and have a list on the fridge to buy once at a time.
Rice – 4 more days left; Dal – 3 more days left; Vegetables – need it by today etc
The same thing applies at every place in the house like your medicines, beauty care products etc.
Benefits: You can either order them all online at once that saves your shipping cost or saves you going to the stores, waiting in the queues etc.
By strictly limiting to weekly once/monthly once shopping will definitely save your money, reduce the shopaholic behaviour, and of course saves your time!
So all your house buying routine is sorted!!
Additional Pro Tip:
Always go to the stores at an odd time. Like Monday morning (If possible), Mid-week after 9 pm etc to avoid the crowd. Avoid weekends so that you can utilise for some recreational activities and avoid the crowd at stores.
Buy summer essentials in winter and vice versa to get products at cheaper costs. Buying sweaters in summer might sound crazy but the shopkeeper will definitely sell it to you at a reasonable price and are not overrated.
Keep a coupon code sticky note at home and keep collecting all the coupons there. Same thing with online.
Wait for any seasonal offers, online discount hours etc and add everything to the cart, wait for the discounts to arrive.
Use different colour sticky notes for different tasks. Office work in red, housework in green etc. This will make you register the number for tasks in mind even without actually reading them.
Calendar-Based Dairy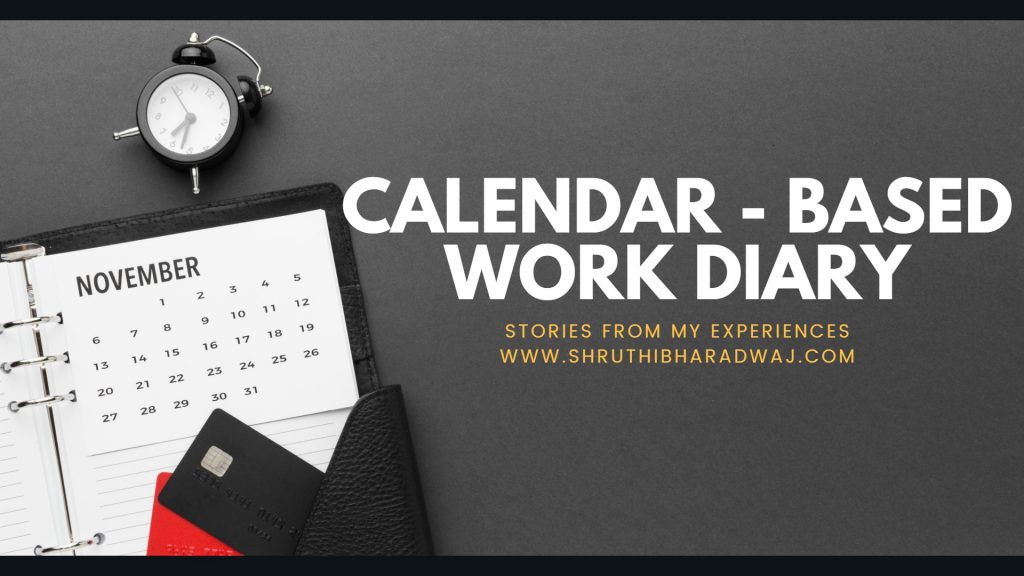 This is not meant only for the office, but it comes at a great help at your home as well. Whether you carry your essentials or not, this book is mandatory for any person who is willing to be productive! Keep adding the events in your dairy on the dates. For example, your dental appointment, parlour time, shopping time etc.
You can track your time like facial, laundry, pressing cloths etc. For example: 6.00 to 7.00 pm are for personal time. You plan for a facial at home on Thursday, the same hour next day can be utilised for talking to a friend, watching a movie. This is just an example and it all depends on number of task, number of hours you want to spend.
You don't do facial every day. So you dedicate every Thursdays for a specific work and your mind automatically gets fixed to that.
Benefits: You will start seeing a pattern of your own behaviour and you can save a lot of time. Like you go to the stores, give them a list of items to buy on the way and then drop by the parlour. You can collect your supplies while coming back on the way!  If you use the dairy very regularly you will see wonders happening and you will have more time left for you.  While reading this it might sound like it is a lot of work or too monotonous, but little effort, little more energy and some patience to follow will definitely lead to a better-structured lifestyle.
Pro Tip:
Keep a track of hours. Eventually you will master in optimising it. Example you take about one hour at the parlour every time, you will be able to get other work like the laundry, groceries and vehicle service etc., while you are relaxing at the spa.
This might not seem to be convincing to you or might look very simple but this definitely works when you "actually" implement.
DO NOT DO THIS: This is not a monotonous plan that gets you drained out of energy. This is more like an activity-based task that keeps you engaging.
Daily Planner – Monthly / Weekly Planner
There are some tasks that can be done once a week can be skipped etc. Having a daily, weekly monthly planner is not for planning the day but it is for making your brain think of number of tasks you need to accomplish and make you feel active and aware of it. The more you list your tasks, your brain starts to function that way and keeps pushing you to work and get out of procrastination.
I shall write another blog post separately on this in detail!
Wear an Analog Watch
This has made a very huge impact on my lifestyle!  Earlier I used to look at my phone to check time. I see notifications, messages or probably end up on Facebook, WhatsApp status and the time just flies!! Avoid digital or a smart watch because it simply distracts you!
Why Analog?
You look at it like a cake or pizza slice (or like a pie chart). Every slice dedicates to every task. A 30 min looks like a half cut cake. So your brain gets used to half cake, quarter cake etc. You are on a mission to cook, you need half cake, you are mopping the floor, it's a quarter cake etc. Earlier, I was so lazy to wake up in the mornings.  I see mobile phone it says 5.32, my mind says let me wake up at 6:00 sharp. At 6, my mind says 6.15 and it goes on. We always ignore those 2, 3 minutes and keep procrastinating into getting back to work.  If you see time like 12:34 you will push it to 12.40, so you lose 6 minutes. 6 minutes is okay to lose but without your knowledge you are wasting every such 6 minutes throughout the day and that's when you lose time!!
This is a simple psychology to trick your brain to use Analog watch and visualise like a cake and it has made magic to get out of my comfort zone!
Screen Time
Smart phone has made us really dumb/lazy. Blame Facebook, WhatsApp or any other apps but we are losing a lot and lot of time in this. So it is totally up to us on limiting the screen time.
Songs playlist
This is another interesting way of multi-tasking and optimising time. I have a specific song lists for every task at home and work. I have seen many of my friends also doing this.
I wake up in the morning, apply hair oil, massage in first place 15 mins, brush my teeth, freshen up – 15 mins, put the cloths to the washing machine, prepare the cooker for rice, sweep the floor come back to kitchen, prepare dal, subzi etc, go back and mop the floor, take a shower (oil is well settled on my hair), dry the clothes. So all my work is covered less than 1.5 to 2 hours! If I run behind the clock or the task, my mind gets stressed. So I create a list of my favourite songs and play it on the speakers. By the time each song ends I keep finishing each and every task. Next day I play the same list and I know when the song is going to end and my energy automatically gets adjusted to finish the task by the time song ends.
So I enjoy the music, my hair massage and the other work gets going at ease.
Self-Rewarding
My psychologist at one of my sessions told me this. Our Human brain is designed to be happy and your best comes out always when you are happy. At the stressful times you reward yourself, you fee doing it more.
Set a challenge like cooking in exact 45 minutes. Start a stopwatch and if you accomplish, ask your spouse for a gift. If you finish your entire task for day, you watch a movie with your friend/parents/spouse at theatre. Or get a biryani for yourself. You can get more creative in rewarding yourself every time you accomplish something.
Some of the ideas that have collected:
Buying a perfume, a Starbucks coffee, Buying a lipstick, McD meal, movie tickets, foot massage from your spouse, romantic dates, chocolates, nail paint, buying a book…..
Competition with the partner
If you are crazy couple, this works perfect. Challenge each other and just push the household chores on the loser! Winner Winner Chicken Dinner. Loser loser household cleaner. Nobody wants to do household chores and definitely both of you will have a tug of war in winning.
Benefit: House is well maintained, you tasks are accomplished, both of you will be more engaging and what not, you are more productive and it's a team work!
PS : DO NOT fight, please! Tasks can be different. He has to work out at gym an hour and you have a PPT to finish in an hour. So the stop clock is on and whoever finishes, get the perk!
The 2 week challenge
This is another interesting way to get on to the productive track. If you are a person having too many things in hand to execute and not sure where to start or feel you don't have time to cater all of them, you can have short terms goals and execute one at a time.
I use this every time and it has absolutely worked for me. I had dehydration issue and that lead to sever hairfall, scars on my face and lot of pimples which started pulling my confidence down. I had to drink lots of water and look on to my diet plan very seriously. I am not very good at eating or health conscious and maintaining a "regular" diet was big time challenge to me. That is when I got into this idea of 2 week challenge. I had to focus only on drinking 4 litres of water every day for next 2 weeks, I focused only on that. Since it was only for 2 weeks, I was not stressed out thinking it as a tedious process. I marked on the calendar like 14 days left, 10 days left and so on. Once that is done, I decided to drink tender coconut for the next 15 days. So eventually it becomes a habit and you will start to do it habitually.
There are lot more things I do like Schedule an "alert tone" for every two hours setting remainders utilising the Toilet time in the reading newspaper, checking mails, planning my day, spending time in thinking etc.
There is no hard core rule to be successful and it is all customisable to your convenience. So go ahead and plan your time very well, enjoy the multi task to save lot of your time and utilise that to pursue your hobbies, sleeping, spending time with family and mainly on your health.
Thank you for reading and stay tuned to know more stories from me.
Love and peace!
-Shruthi
Like People and my post, Share love and my post, Comment good things and also on my post, Subscribe to goodness and to my Youtube channel